HVAC applications
Our HVAC applications support you in the planning of air handling unit systems. Our focus is the energy recovery, see page Downloads.
The AHH software contains the Mollier Diagram and the Psychrometric Chart and thus covers all requirements for processes with humid air worldwide. All in one! More than 6,000 engineers use AHH, which is why AHH is called the market leader.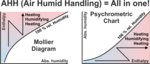 AHH basic version
contains 11 applications
AHH:Mollier-HX-Diagram & Psychrometric chart, processes with air
MDI:Meteorological data interface, selection of operating times
AHU:Neutral air handling unit configurator for projects
DWT:Conversions for dry bulb, wet bulb and dew point
TEM:Calculation of all mean logarithmic temperature differences
GLY:Brine properties and performance comparison for circuit connected systems
REF:Calculate subcritical refrigeration cycle processes
FRO:Calculation of the defrosting time of fin coil heat exchangers
RFT:Calculation of the rib foot temperature in air coolers
KES:Calculation of ice storages for cold water production 6/12°C
GHH:Mollier-Diagram for gas-steam-mixtures to condensing the steam
AHH professional version
AHH basic version plus 2 application
EAC:Economic comparison of circuit connected systems
DEH:Economic efficiency of air handling units with various heat recovery systems
The AHH download contains all 13 trial applications, which can be tested free of charge for 30 days.
Zeller Consulting Suisse
Your partner for HVAC applications such as AHH software.